Looking Ahead to the First Flowers of Spring in Addison County
For Vermont Gardeners, February is a month of flowers. But not the roses you might expect – Valentine's Day was invented to get us through until the Snowdrops. While everyone is busy trying to memorize Shakespeare's Sonnet #18 in time for Thursday ("Shall I compare thee to a Summer's day? Thou art more lovely and more temperate…"), Vermont gardeners are plotting. Waiting for the Snowdrop.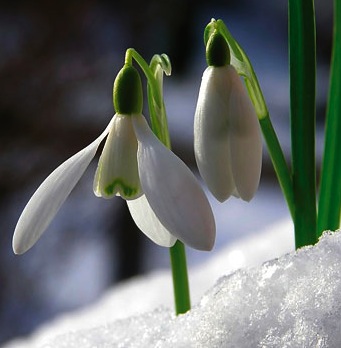 To A Snowdrop
LONE Flower, hemmed in with snows and white as they
But hardier far, once more I see thee bend
Thy forehead, as if fearful to offend,
Like an unbidden guest.
~ William Wordsworth
Snowdrops
I like to think
That long ago,
There fell to earth
Some flakes of snow
Which loved this cold
Grey world of ours
So much, they stayed
As snowdrop flowers.
~Mary Vivian.
The First Flowers of Spring in Addison County are : "Snowdrops and winter aconite…usually in March. These are soon followed by crocus, scilla, and chionodoxa. Then come the hyacinths, daffodils, and tulips." (www.uvm.edu)
But if you can't wait for the Snowdrops, the Vermont Flower Show is nearly upon us. March 1-3 at the Champlain Valley Expo. The theme this year is "The Road Not Taken" from the poem by Robert Frost.
I'd also like to recommend the following Garden Homes in Middlebury and the Addison County. Got your seed catalog yet?
image credit: morningmistandscatteredclouds.blogspot.com