Holiday Sparkle in Vermont
While little kids across Vermont are wondering how a certain red-suited guy will conduct his sleigh next week in such a dearth of snow, their parents are discovering other ways to find holiday sparkle in Vermont.
The best place we know to find sparkle in the Middlebury Area is at Sparkling, a great little champagne and sparkling wine bar located in an historic building in the center of town. Sparkling pairs the best champagnes and sparkling wines from around the world with local cow and goat cheeses and handmade Vermont artisanal chocolates. Yum! (http://www.sparklingvt.com)
If bubbles are your thing – and what holiday is complete without them? – you should also tap into The Cider House open Wednesdays through Sundays at Woodchuck Cider (http://www.woodchuck.com/ciderhouse/), part of the Middlebury Tasting Trail. The Middlebury Tasting Trail  is a great place to tipple and shop. It features Stonecutter Spirits, Appalachian Gap Distillery, Drop-In Brewery – all in Middlebury – and Lincoln Peak Winery in New Haven.(http://www.middtastingtrail.com)
If you are looking to ignite your inner sparkle, try yoga at Otter Creek Yoga or a fitness class at Vermont Sun. Both feature drop-in classes and good rates (Vermont Sun has a pool and hot tub). A more passive inner sparkle can be found at the Topnotch Spa in Stowe, which offers such self-indulgent bliss as a four-hand massage and a hot tub with a cascading waterfall (you'll soon forget how little snow we have here in Vermont this year).
And then we turn to long-term sparkle. This is the glow that comes from living here, which is something I highly recommend! Here are two of my current favorite Vermont listings: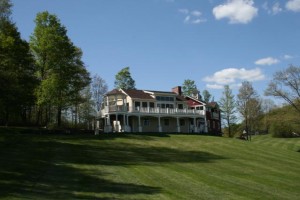 313 Gutherie Road Lincoln, Vermont
An architect-designed contemporary farmhouse: rolling hills, stone-walled swimming pond, gardens and pastures on your own very private 115 acres. And while I don't have an image of them here, this spectacular country homestead features 4 fireplaces. Think of all the chestnuts you could roast!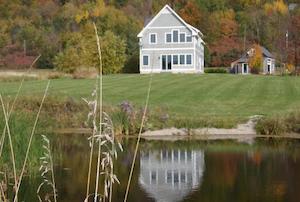 1240 Mountain Road, Addison, Vermont
Great wide open floor plan kitchen area with mahogany cabinets flowing into dining room area overlooking one step down to the living room. All areas have magnificent windows with views of the yard, trout pond and mountains. A full office in the barn.
The price of this wonderful home has been reduced!
And here are my featured properties. I do think your holidays will be happier here.