Addison County Mudrooms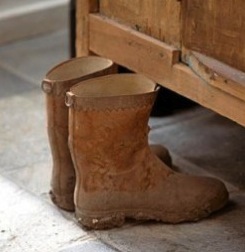 January Thaw Redux here in Addison County Vermont has made a mess of living rooms across the region. Unless, of course, your home includes that decontamination chamber we fondly refer to as The Mudroom.
The Mudroom is a New England staple. Though this wonderful room exists elsewhere in the country, Vermont has made it an art form. The best mudrooms are easily cleaned, well-lit, toasty warm, and have a place for everything.
Don't be fooled into thinking this room should be called the Foyer. Foyers belong in opera houses. Though the Mudroom is To the Manor Born (in manor houses a hundred years ago, the mudroom doubled as the servant's entrance) it is much more informal.
The mudroom is often overlooked by real estate photographers, but it is the secret to making your home a sanctuary. Mudrooms provide:
a barrier to keep the outside from being dragged in
a user friendly area to store keys, purses, locate lockers for kids (and Mom's) to drop their "stuff"
a nice area with a bench to remove shoes and change to house shoes or slippers
a great place for wet umbrellas!
a place to clean Fido! AND store Fido's leash! AND store Fido when you are training him and have to leave him home alone!!! (http://activerain.com)
There are currently 19 Addison County homes with mudrooms on our website. Grab your boots and contact me. Let's go see them!
image credits: moneypit.com, viktoriaciostek.com