Unveiling the Secret Gardens of Addison County
A nickel tour of Pinterest will reveal hundreds of images of Secret Gardens. And why not? Few things are more romantic or mysterious. Who can forget Frances Hodgson Burnett's The Secret Garden?
But the secret is out, here in Addison County! After the early false starts of spring and the unseasonable coolth of April, gardeners in Addison County are starting to crow about their garden plots and the Vermont garden is deepening into a green worthy of the name verd monts.
On the eve of Vermont Green-Up Day, organic gardening has reached an almost fevered pitch: a favorite local nursery, Rocky Dale Gardens in Bristol is publishing weekly guides tailored to our Zone; Vermont Garden Journal is airing weekly broadcasts about everything from pruning lilacs to growing blight-free organic tomatoes, local CSAs are gearing up for early veggies, and a local TV station just produced a program about garden edging. Trees are blossoming and Vermonters are itchin' to get their hands dirty. Maybe it's time for you to get the bug, too?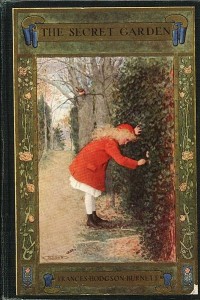 If you have forgotten Burnett's The Secret Garden, here's a little synopsis: The book's heroine, Young Mary Lennox, is orphaned by a cholera epidemic in India and sent to England to live with her widowed uncle in a cold ancestral manor in Yorkshire. She finds a key to an overgrown secret garden, the favorite of her late aunt and locked up since her death. Adventure and self-discovery ensue. And the key ultimately unlocks for Mary and her uncle the healing power of living things.
This little story starts to unveil some of the mysteries gardening holds for so many of us here in Addison County. Crack open this book as you sip tea under a nascent lilac or take a tour of these Vermont Garden homes with me and you'll start to see what I mean.
image credits: Pinterest, wikipedia