Vermont Maple Syrup: Liquid Gold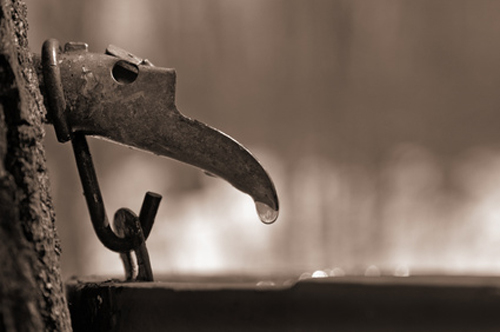 The first sap boiling day of the Vermont Maple Season has traditionally been Town Meeting Day. But unlike Town Meeting, whose results can often be predicted by a savvy town clerk, our sugaring season is much harder to pin down. The Vermont Maple season is nothing if not mercurial – both in its unpredictable and volatile nature and in its dependence on the mercury (in the thermometer).
The flow of Maple sap is caused by the pressure difference within the maple tree when the temperatures fluctuate. Night temperatures below freezing and daytime temperatures above freezing create ideal pressure conditions for good sap flow. According to Vtdigger.org, sugar maple trees now release their sap approximately 8.2 days earlier and stop producing usable sap 11.4 days earlier than they did 40 years ago. In some parts of Vermont, maple season started and ended as many as three weeks early this year.
It takes about 40 gallons of sap to make one gallon of syrup. According to Boston.com, the 2011 "U.S. maple production hit an all-time high of 2.79 million gallons, led by Vermont with 1.14 million gallons. Beyond good weather, technology has played a role in the industry's growth, with vacuum tube systems that pull he sap from trees and new taps with valves designed to prevent sap flowing back into the trees." This year could be the perfect time to get in on this burgeoning, time-honored New England activity.
On the other hand, Climate Desk, a non-profit organization that explores the human, environmental, economic, and political impact of a climate change, predicts the disappearance of Maple Sugar in this part of the country by the year 2100. Warmer temperatures are causing a gradual northern migration of the sugar maple. Even an old EPA Climate Action Report from 2002 notes that "climate change is likely to cause long-term shifts in forest species, such as sugar maples moving north out of the country."
This could be the perfect time to get in on the stewardship of this important New England icon: the Sugar Maple….
image credit: glutenfreeforgood.com