Vermont's Own Mariana Trench Discovered in Addison County Pond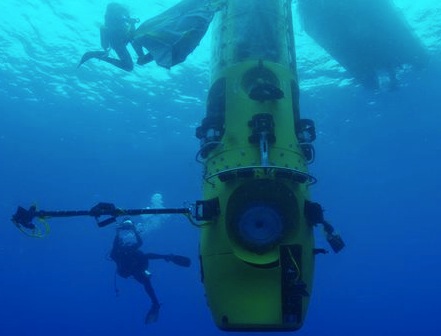 The triumphal dive of "Titanic" director James Cameron on earth's deepest point has done more than inspire copycat dives, it has lead to an earth-shattering discovery right here in Addison County.
What started as a revolutionary collaboration among the American Studies, Molecular Biology, and Theatre Departments at Middlebury College has developed into an incredible voyage of discovery. Inspired by Cameron's voyage into the Mariana Trench, the Addison Aquatic Studies Team launched an expedition to explore, document and film the uncharted depths of three legendary ponds in Addison County, one in Goshen, two in Ripton.
The dives at the Goshen pond, approximately 12.5 acres across, and the upper pond at Ripton, less than 2 acres, revealed only endemic organisms and anticipated environmental characteristics, but the dive at the lower pond on the Ripton property revealed a trench not unlike the Mariana found in the western Pacific.
Though the lower pond at Ripton presented extremely poor underwater visibility, with sub-meter horizontal visibility, divers discovered by feel alone, the trench experts are now calling the Ripton Ditch. Here the Team plunged about two hundred meters to the bottom of the pond in Eastern Addison County, where temperatures are barely above freezing and the pressure is a crushing three times that found at sea level. Speaking after the mission, the filmmaker-explorers described a barren "completely alien world" on the pond floor, not unlike the surface of the moon.
The discovery of the Ripton Ditch, the deepest underwater pond trench in this part of New England, is a pioneering coup for the Addison Aquatic Studies Team, the first film and exploration group of its kind at Middlebury. Paul Johnston, National Museum of American History Diver and Curator and Middlebury College graduate calls the find "Spectacular!"
The Middlebury music department joined the team to celebrate the success of the mission. Local Vermont band, Antarctica, performed the following piece:
Please note: No endemic organisms were harmed in the filming of this expedition.
Image credit: http://subseaworldnews.com