National Poetry Month in Vermont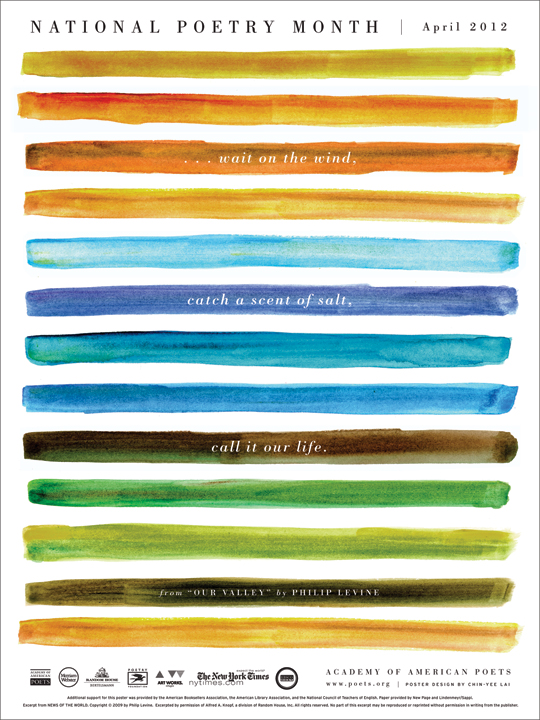 Any Vermonter lulled into a false sense of Spring by the unseasonably warm weather in March will agree with T.S. Eliot that 'April is the cruelest month.' That Vermonter might also agree that this month's cruelty lead directly to the invention of National Poetry Month.
In New England right about now, we need a little soulful beauty to get us through to a fuller experience of Spring. April is filled with unusual national holidays designed, it seems, to do just that. The 19th is National Garlic Day; the 29th is National Shrimp Scampi Day. The 11th is National Eight-Track Tape Day (by some unfortunate coincidence the 11th is also National Barber Shop Quartet Day). But National Poetry Month comes closest to soothing souls and meeting our Mud Season needs.
To honor National Poetry Month it is appropriate that we look into Addison County homes with libraries. Words, after all, are how we define ourselves here in Vermont (think Robert Frost, Fred Tuttle, Bill Schubart); and libraries are where we interpret some of our definitions.
Below are two Addison County homes with libraries. On the left,  Cottage Style home at 150 Chipman Park in Middlebury; on the right, a passive solar Saltbox design on Dog Team Road in New Haven. Click on images of the houses for full listing details:
Now that we've got the proper rooms, let me suggest a poem by Vermont's Poet Laureate, Sydney Lea (taken from the Poetry Foundation website):
                 Thunder outdoors
He stacks shelves, though his children's dishes file in as if by themselves:
                 A pair of plates just there,
                 Six gaudy tumblers directly under,
So the baby daughter's safety cup is crowded.
                 There's something about it
                 — The household's loose order — that generally reassures,
                 And the storm's still far.
                 One's life, dear clutter
Assumed across the years. Me becomes Mine, Us become Ours.
                 Here is another, older
                 Girl's bowl that she made in school,
3rd grade. Pastiche of colors, a serpent
                 Turns a circuit,
                 Begins as gold, goes black around the border.
                 Her father considers
                 Beautiful miles,
Their puzzling splendors: for instance how he and his two little brothers
                 Would kneel by that tall pile
                 Of swimming hole rocks, in one of whose clefts
A snake always lisped, jetting its feces. They reeked.
                 A single peek,
                 And the younger boys thought, This is danger. But each a child,
                 Each smiled.
                 Stink and sweat.
Rough nap of his towel. Minor quake of lightning down in his bowels
                 As he probed the crack with a stick.
                 Half-cruel, he smiled at the snake's recoil
Sydney Lea has taught at Yale University, Dartmouth College, Middlebury College, and Wesleyan University. He lives in Vermont, where he was named the state's 2011 Poet Laureate.
Learn more about Sydney Lea at www.sydneylea.net or www.poetryfoundation.org