Looking for a Traditional Vermont Fourth of July? Try Bristol and Brandon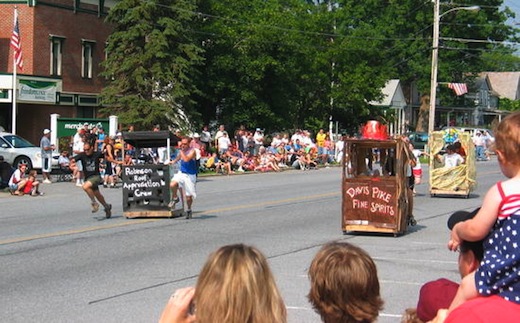 If you're looking for traditional Vermont this July 4th, Addison County may be the very best place to celebrate, although Rutland County is a close second. Two Vermont towns in particular have terrific Independence Day events: Brandon and Bristol.
The Brandon 4th of July celebration is a no-holds-barred, town-wide party that lasts for days. As the town of Brandon website says it, "Let's Party!" Brandon is 250 years old this year and the towns people are going to get down and boogie (literally, the July celebrations start with a street dance). Here's the program:
July 1
6 PM-10 PM – Street Dance at Central Park
July 2
9 AM – Food and Crafts at Central Park, Karaoke in the Band Stand
10AM – Silent Auction
10AM-11 AM – High Peaks Juggling show in Green Park
1PM Parade starts at the top of Park Street
2:15 PM – 3:15 PM – Wildwood Bluegrass Band at Central Park
3PM The Great Brandon Ball Race at Green Park (there are prizes are $300, $200 and $100!)
6PM-  DJ, inflatables, food and crafts at Park Village
Dusk – Fireworks
The Brandon Fourth of July Parade claims to be the biggest in the state. It usually features floats, marching bands, antique cars, and of course a politician or two.
The Fourth of July celebrations in Bristol have a different tradition: outhouse races! The Great Outhouse Race (pictured above and below) is in its 33rd year. Kids racing today are the grandchildren of the winners of the original outhouse racers in the 1979 inaugural outhouse race. Each team has two runners and a throne sitter (reading materials optional). The World Champion Outhouse Racer wins a cash prize of $75.00.
[youtube 69oNdSI1agY]
image credit: http://www.travelpod.com