Thanksgiving in Vermont and the Evolution of the American Dining Room
It's mid-November and hosts across Vermont and the rest of the country are polishing their silverware for the onslaught of family and friends at Thanksgiving. And where will we gather to give thanks? The dining room, of course. Football games and parades not withstanding, this is the room where it all happens.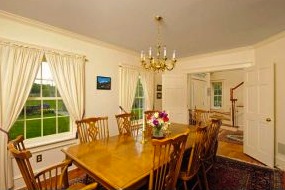 The evolution of the dining room inspires images similar to those of the ascent of man from ape to Neanderthal to modern man. The dining room evolved from the fire pit of cave-dwellers to the outdoor kitchens behind one-room cabins on the frontier to the proud showcases for culinary triumphs gleaned from the Food Channel.
From the Victorian age of contrasting opulence and extreme poverty to the post Word War I era of kitchen ranges and domestic science, we need a place to break bread after the harvest season. The following Panton VT dining rooms might appeal.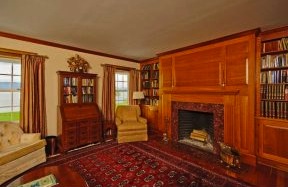 This dining room is in a stone and frame Greek Revival on Lake Road. The home is on 10+ acres with 217 feet of Lake Champlain frontage, with lake and Adirondack Mountain views. You'll be able to see the mountains as you digest. Or you might think about retiring to the  drawing room (left) for after dinner drinks.
The dining in this Panton home (right) on Jersey Street can be accomplished in a few different rooms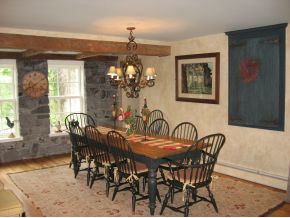 : this home has two dining rooms but also a wonderful bar overlooking the kitchen. As a cook this would be my preferred perch during the festivities. It's a place where guests can get a piece of the action. In some family gatherings, this might mean a case of too many cooks spoiling the pot, but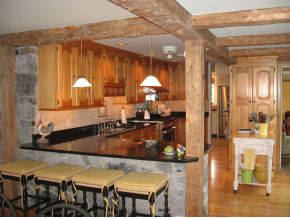 if you abide by traditional family rules and keep politics, religion, and money out of the conversation, Thanksgiving can be the best time for closeness.
Contact me for more about these Panton homes. And have a happy Thanksgiving.
And if you don't cook, you might consider dining at one of these great Vermont Inns:
The Swift House Inn,  Middlebury
Inn at Baldwin Creek, Bristol
Juniper Hill Inn, Windsor
Dorset Inn, Dorset