Do you have what it takes to be a great Vermont Innkeeper?
Stick season in Vermont is a good time to take stock and determine if you have what it takes to be an innkeeper or run a B&B in the Green Mountain state. Traditionally this time of year marked a time of ending and rebirth (Samhain for the
Celts, All Saints Day in the Roman Catholic Church, Day of the Dead in Mexico). For the B&B owner, it's a short breather between leaf peepers and Christmas revelers.
There are many great innkeeper examples in our culture from the innkeepers who kicked out Mary and Joesph to national and regional innkeepers associations in the US and abroad.
In the 1570's the rowdy crowds drawn by theatrical performances were frowned upon by the London establishment, so innkeepers stepped in to host Shakespeare's plays. Sure it was a great business strategy to provide bed and breakfast to a captive audience of mead-happy thespians, but innkeepers became the benefactors of great art.
The other end of the innkeeper spectrum is Victor Hugo's Monsieur et Madame Thénardier from Les Miserables. These corrupt innkeepers took advantage of guests under their care, extorting unreasonable sums for incredibly bad treatment to great literary and dramatic effect.
The middle ground is the Vermont B&B owner portrayed by Bob Newhart in a 1970's television sitcom. Part psychotherapist, part proprietor, Newhart's avuncular character became the stereotype for the New England country inn. The B&B portrayed in the show was East Middlebury's Waybury Inn, if you are of a certain age, you'll recognize it.
Think about your personality, your lifestyle. If you have people skills, a business sense, and can make a good cup of coffee you may very well have what it takes to own a B&B. Oh, and you'll need a beautiful property in a great location. There are a few great types of country inns, let's focus on the village-center inn and the destination resort B&B. Ownership of each type requires a subtly different personality type.
The village inn owner is a resource for touristic activities while the destination B&B owner facilitates relaxation and romance. The destination B&B owner has to be a good people reader: some guests will want conversation, others will want to be left alone.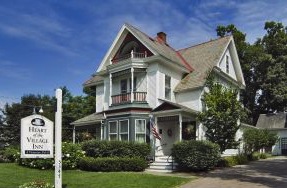 Shelburne's Heart of the Village Inn is the quintessential stopping place for all things Chittenden County. According to the MLS listing and to any one driving north on Vermont Route 7, the inn is a centerpiece of the Village of Shelburne. It's right across the road from the Shelburne Museum, it's a stone's throw to the village green, it's strolling distance to the elegant local coffee shop, it's 25 minutes away from UVM, and 5 minutes from Lake Champlain.
Heart of the Village Inn is on the National Register of Historic Places. The inn has an above average occupancy rate with many return visitors. The innkeeper here knows when and where everything is happening and has good recommendations.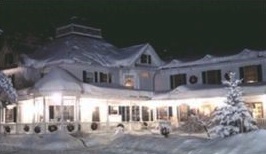 The Thatcher Brook Inn is also an historic building. Built in 1899, this Inn is a getaway in time and space. Rooms are furnished with antiques and (many with) fireplaces. Though the Inn is not far from Route I-89 and state-of-the-art skiing facilitates (Stowe), it feels like it's part of another slower, more intimate century.
It is the ultimate Vermont destination B&B. Weddings and honeymoons are a big part of the clientele. Couples come here to kayak and cross country ski – and get away.
The innkeeper here sets the stage and watches the magic unfold. You don't need a doctorate in psychoanalysis to run such a destination inn, but you'll want to be a good listener…and also posses the ability to become invisible at the drop of a hat.
Not sure what type of innkeeper you'll be? Contact me, we'll talk.
Shakespeare image credit
Bob Newhart image credit