Vermont Inns: Dreamy Vacations and Vocations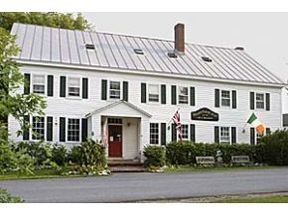 For sweethearts across the country, cozy Vermont Inns are the stuff of dreams. Especially in the Fall. Open your mind's eye for a minute. Imagine crisp evening air, a crackling fire in the hearth and an exquisite meal of local food. Now lean back with a snifter of cognac, make it Calvados in honor of the apple season, and a slice of Banoffi pie and you are as near to heaven as you can get here in Central Vermont.
"Smoke wafted from the chimney, and two benches in front sat empty. I opened the red front door and to my surprise, about a dozen people were inside, waiting for dinner and sipping wine. The warm smell of comfort food wafted from the restaurant. The inn was exactly what I had imagined: creaky wooden floors, wood-beamed ceilings and a living room with cozy couches and a piano." New York Times October 18, 2009
This dreamy Vermont vacation is yours at the Shoreham Inn – you can win this weekend in an online contest or earn it the old fashioned way (make a reservation). Here are some great realities that support this dream weekend vacation:
The New York Times loves the Shoreham Inn
The Wall Street Journal loves the Shoreham Inn
The comfort food at the Gastropub is to die for – the menu changes daily according to what is fresh and local
Banoffi Pie
The Inn is quaint as hell – this Historic Vermont Inn was built in 1790; some rooms are in a modernized historic timber frame barn
There are no televisions at the Inn
This Inn is a blissful escape from the hustle and bustle, but is still spitting distance to one of Vermont's cultural meccas: Middlebury College
Je suis triste, mais Paris in the Springtime cannot hold a candle to Autumn in Vermont
Now here's the dreamy vocation part of this missive: You can own this fabulous Vermont B&B and make dreams come true for hundreds of visitors every year. The Shoreham Inn is for sale! And not for the reasons you might expect to see an historic inn hit the real estate market. The Inn is a hugely successful B&B with a devoted following of return guests (in fact, business here grew during the recession) and the Gastropub is beloved by the local community (read: steady, reliable income). But the fact is that Molly and Dominic are ready for the next big thing. And now, the Shoreham Inn could be your next big thing!
Have you ever dreamed of owning a Vermont Bed and Breakfast? It's time to wake up and smell the coffee…at the Inn…in the middle of the Champlain Valley…in Vermont.