Town Meeting: Lincoln Vermont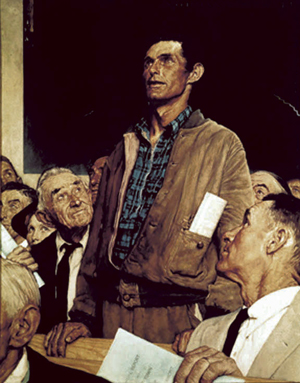 If you want a true taste of democracy in action, Vermont Town Meeting is your day; Lincoln Vermont is your town. On Tuesday, March 6th across Vermont state residents get a chance to speak their minds in a public forum. It is a state holiday. It is also the anniversary of Vermont's admission to the union as the 14th state.
The first town meeting in the U.S. was in 1633 in Massachusetts in 1633. The practice of direct democracy dates back to ancient Greece. Vermont town meeting is a tradition dating back to before there was a Vermont. The one was held in Bennington in 1762; Vermont gained statehood in 1791.
According to UVM Political Science Professor Frank Bryan in his Marlboro College commencement speech: "Town meeting face-to-face democracy inspires tolerance and forbearance…brings out the humanity in you mainly because it creates empathy, the most important word in politics today."
Here's how it works: Eligible citizens (including students of voting age) of the town may vote on specific issues that are announced through a warning. Warnings and proposals for Lincoln, Vermont are published here. These warnings must be posted at least 30 days before the meeting.
Towns vote in two different ways: by floor meeting or by Australian Ballot. For me, the floor meeting is where democracy happens. "At a floor meeting there are no representatives… Citizens speak directly for themselves, seeking to clarify or amend items to be voted, or to persuade those present on whether or not to vote for a particular measure." (from the Vermont Secretary of State website)
Lincoln is the place to be to observe this great tradition because of its small (right around 1200 souls) and lively population. And Town Meeting is spread over two days. According to Lincoln Town Clerk Sally Ober:
The Annual Town Meeting in Lincoln is officially on the evening of Monday, March 5th, at 6:00pm. We have our meeting at Burnham Hall, and the voting is from the floor of the meeting on budget items for the Municipal and Elementary School budgets or issues (usually by voice vote, but sometimes there is a division of the house or request for paper ballot on a question). On Tuesday, March 6th from 7:00am to 7:00 pm, we will have Australian ballot voting for Town and School District officers, High School and Technical School budgets, as well as the Presidential Primary.
Some VT towns hold their Australian ballot voting simultaneously with their Town Meeting, but Lincoln separates these over two days.
image credit: Norman Rockwell "Save Freedom of Speech" published in the Saturday Evening Post, 1942