Day Trip to New Haven – The 251 Club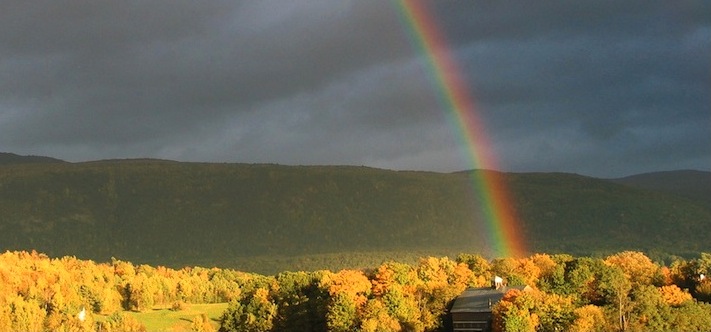 Vermont is made up of 251 small and not-so small towns. The 251 Club celebrates each of them. The 251 Club is an organization of Vermont enthusiasts whose objective is to visit the state's 251 towns and cities.
New Haven is my current darling. Nestled between Middlebury and Bristol, New Haven is the quintessential Vermont village. Not long ago, a Google search revealed no famous people from New Haven. This can be a liberating thing not unlike having very few keys on your key chain or knowing exactly what you are going to cook for dinner.
Today New Haven has one famous resident singer-song writer Julie Frost, a Golden Globe winner who composes for famous pop groups like Madonna and the Black Eyed Peas. Before Frost, New Haven had Josiah Bushnell Grinnell (1821 – 1891), founder of Grinnell, Iowa; Royal T. Sprague (1814 – 1872), 11th Chief Justice of the Supreme Court of California; and Homer Hulbert (1863–1949), missionary and activist. Josiah, Royal and Homer are not ringing any bells for me, but I do like the sound Julie's voice.
This near absence of celebrity appeals to second-home owners moving to Vermont just as much as it does to local Vermonters. The scarcity of people, New Haven's population is only 1,826 spread out over 41.5 square miles, often makes for stronger relationships with neighbors. It has to do with supply and demand.
New Haven's bucolic allure is readily present in the recently sold Clifford House on Sherman Lane in New Haven (a rainbow over that property is pictured above). You can also get a taste of it in this architecturally designed contemporary in New Haven. Click on an image for full property details:
"Architect designed contemporary plus 2-BR guest house on 30 acres overlooking fields, Otter Creek, Snake Mt. and Adirondacks. Extremely energy efficient (all Marvin Integrity windows), the interior features large open rooms with natural woodwork and multiple levels of living space. Kitchen is open to dining/family room for wonderful entertaining space. Bedrooms have high ceilings and loft space. Lower level has large room for playroom or exercise room and very large, dry storage area. However, if storage solutions are still a problem, you may visit sites like https://www.boomboxstorage.com/ for storage options. Land borders Otter Creek (think kayaking/canoeing). Great biking roads in all directions."
What the MLS description does not tell you is that the high ceilings in this house just make you feel regal. The countryside has the same effect.