Lake Champlain History: Canadian Whiskey and Vermont Lakefront Properties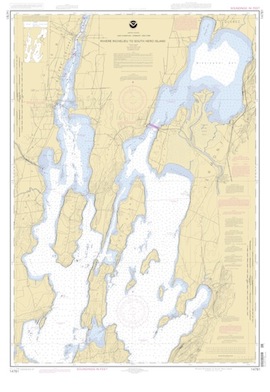 Lake Champlain played a major role in quenching the thirsts of millions of Americans. Not as a water source, but as a passageway. Lake Champlain has always been a thoroughfare for commerce. The opening of the Champlain Canal in 1823 gave Vermont access to New York City and launched us into the participation in the national economy. Timber, stone, iron, and agricultural surplus made their way up and down the Lake. During Prohibition, Canadian whiskey was the cargo of choice for many a boatman.
The ratification of the 18th Amendment took the wind out of many sails, but the more daring entrepreneurs of the era found some excitement on Lake Champlain. Its geography, number of inlets, islands and bays made Lake Champlain the perfect highway for smuggling booze. The lake became such a popular passageway for liquor, the law also learned to use its geography to their advantage. Because many Vermont smugglers could not afford the speed boats that could outrun the law, they had to be more stealthy – traveling by night or during inclement weather. Canoes, skiffs and iceboats were popular vehicles for bootleggers on Lake Champlain.
Though the Northern part of the Lake and the Inland Sea saw most of the action, North Hero in particular,
Filling small boats with Canadian whiskey, the bootleggers would motor down from Quebec through the Inland Sea, or Northeast Arm, section of the lake, past the Champlain Islands. Larger, faster U.S. patrol boats would often lie in wait. The bootleggers would counter by speeding west toward North Hero Island, lightening their boats by tossing the evidence—the liquor—overboard, and escaping to the Carry, a North Hero portage just a few feet wide that divides the Northeast Arm from the Broad, or main lake, to the west. The bootleggers could lift their smaller boats over the Carry and escape from the feds into the Broad Lake. (from Discover Magazine)
the Southern part of the lake provided some great vantage points for keeping tabs on the whereabouts of the boat patrols. The Lake Champlain Bridge at Crown Point was perfectly situated for a good view of the on-water traffic below.
Imagine what residents saw from this lakefront property on Arnold Bay. The views of the lake from this Panton Vermont home built in 1926 inspire all kinds of images. The multiple chimneys, guest house and Mother-in-law apartment would have made great places for hiding a few cases.
If you wish to own a home close to the sea, beach, or lake, then you might want to consider boat houses. You may click to read for more info on how you can acquire one.
image credit: xpda.com