Vermont Summer Begins: Memorial Day in Addison County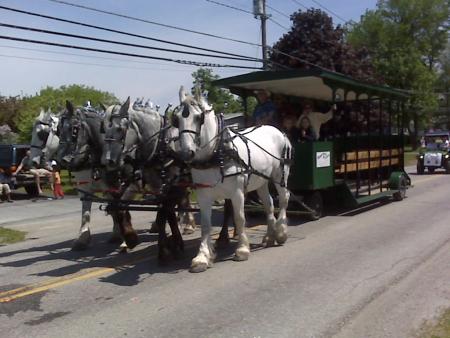 There are few things as old-timey wonderful as a small town Vermont parade. Of course there are Memorial Day parades across the country, but none as charming as those here in Vermont. There is something about the combination of nervous heifers, fire trucks, girl scouts, tossed candy, antique cars, bagpipes, garish floats and aging Veterans that makes my heart well up with pride for my home state.
This Memorial Day, Addison County has five parades that I could confirm with town clerks, and many other remembrance-related activities. Here are a few highlights:
Orwell – Memorial Day Parade: 1:00 pm – Sunday
Middlebury Memorial Day Parade: 9:00 am – Monday
Vergennes Memorial Day Parade: 11:00 am – Monday
Bristol Memorial Day Parade: Noon – Monday
Hancock Memorial Day Parade: 10:00 am – Monday
Brandon Town Birthday Party (250th) – 1:00 pm Party, 2:00pm Cake – Monday
Of all of these Memorial Day events, the parade in Vergennes is my favorite. It is truly a classic. It even features a fly-over. This parade captures it all in its two-miles of glory. From awkward boy scouts in uniform to over-exuberant Shriners in mini monster trucks to gun-shooting Revolutionary War reenactors, this parade is the best. It starts at Vergennes Union High School, loops through side streets, and culminates at Vergennes City Park. Come early. This parade is very popular, so parking can be tricky.
It is my duty as an Addison County resident and Vermont Realtor to tell you, that if you lived here, you would not have to worry about parking.
And of course, as we celebrate Vermont, the prospects of summer, and a day off from work, let us not forget the meaning of the day. Monday afternoon at 3:00 pm, is the "National Moment of Remembrance," when people all over the country stop to reflect upon and honor those who died while defending the country.
parade image credit: www.findandgoseek.net