Merry Christmas from Middlebury: Christine's Holiday Fruitcake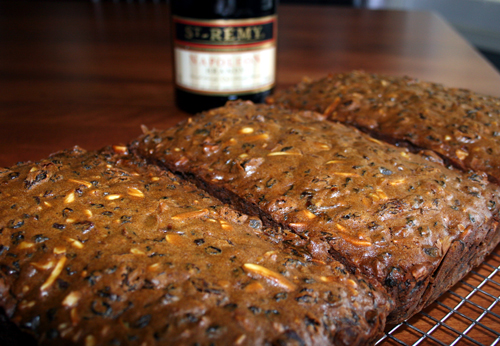 Fruitcake is the butt of many seasonal jokes, but my favorite fruitcake is no laughing matter – until you've enjoyed too much of it, that is. I offer my recipe here as a holiday treat to my past and future clients.
Pre-heat oven to 350 degrees and have all ingredients at room temperature.
Sift 4 cups all-purpose flour into a bowl. Take out ½ cup and in another bowl, toss it with:
1 and 1/3 cups of your favorite nuts. (Macadamia)
1 and 1/3 cups of dried apricots (or mangoes or papayas or pears or pineapple)
1 and 1/3 cups white raisins
1 and 1/3 cup sweetened coconut (optional, but great if you are going tropical with your other ingredients)
Re-sift the remainder of the flour with the dry ingredients:
1 teaspoon baking powder
½ teaspoon salt
Cream until light ¾ cup of butter
Then add in cream 2 cups sugar
Then beat in, one at a time, 5 eggs
Add 1 teaspoon of vanilla or almond extract or rum
Beat it all until light
Stir the flour mixture into the creamed ingredients until mixed well.
Fold in the nuts and fruit
Bake in 4½ by 8½ inch tins for about an hour or less if your oven is very hot.
The very best part of making this cake is the alcohol that goes on it after it has cooled. I cover the cakes in cheesecloth or pieces of old dish towels and then several layers of tin foil so that the cake will soak up the alcohol. You can use rum or bourbon or brandy. Poke holes in the cake and every day for a week or so, trickle a little alcohol over the cake and re-wrap. After the cake has soaked up enough alcohol to your liking, you can bury the cake in a tin of powdered sugar if you like. Although this cake does not last until New Year's in my house, it could last for several if you make enough.
While the cake is soaking, enjoy Christmas in Vermont recorded by the VSO at Middlebury's Mead Chapel and stop by for a bowl of soup at The Storm Cafe (downtown Middlebury) the cafe is open for lunch on Christmas eve. And I recommend the following Vermont Christmas and New Year's events:
December 17
Vermont Symphony Orchestra Brass Quintet and Counterpoint – Jay, VT
December 18
The Boston Children's Chorus – St. Johnsbury, VT
December 26- January 2
Billings Farm & Museum Christmas at the Farm – Woodstock, VT
Horse-drawn sleigh rides. and special holiday programs and activities during the season including Wassail Weekend.
December 29
Torchlight Parade and Fireworks – Mount Snow, West Dover
December 31
First Night – Burlington, Montpelier