Williams Hill, Charlotte, Vermont – It's Green!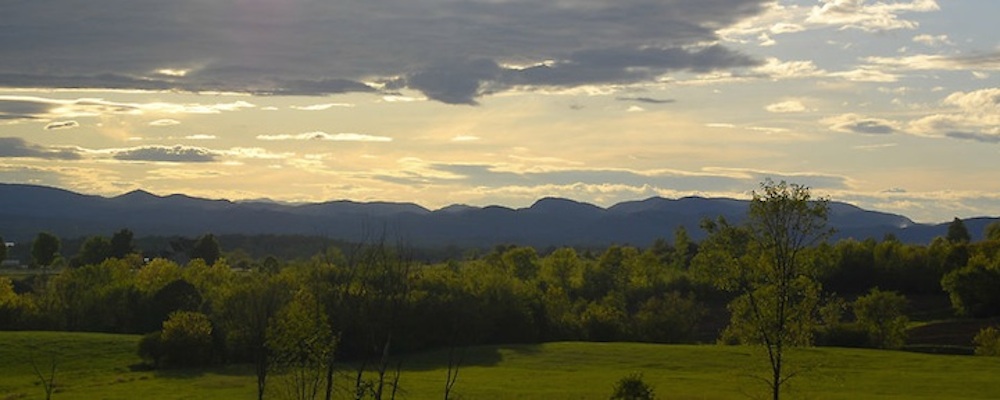 Williams Hill sounds like a velvety Cabernet that you might bring to a dinner party to pair with a succulent roast and a crusty boule, but don't be fooled. Williams Hill is not red, in fact it is totally green, even green by Vermont standards. Williams Hill is an environmentally-friendly "development" of eight house sites and more than 200 acres of open space on a hillside in northern Charlotte.
Williams Hill, The Perfect Pairing
Community and Privacy
Williams Hill is in Charlotte, Vermont's quintessential New England town where the Town Clerk has all the answers and the librarian knows which overdue books you still have on your nightstand. When you live here, the girl behind the counter at the Old Brick Store knows whether you like mayo or mustard on your sandwich and you start to recognize how much last year's trick-or-treaters have grown. Williams Hill is near the heart of this community and yet it is far enough away that you'll be able to find some solitude on your front porch. The home sites here are positioned to maximize privacy, views, and solar gain.
Location and Proximity
Adjacent to the Pease Mountain Natural Area (over 200 acres of open space protected as part of the Nature Conservancy), Williams Hill is also near Charlotte Central School, the Charlotte Children's Center, and the Charlotte Senior Center. It is close enough to Route 7, the main artery of this part of Chittenden County, to make for an easy commute to Burlington (15 minutes) or Middlebury (20 minutes).
Comfort and Environmental Commitment
The planned community combines open space with appropriately-sized green homes (generally less than 3,000 square feet). The open space, intended for recreation and landscape preservation, connects Williams Hill residences to the Pease Mountain Natural Area and the Charlotte Central School.
The homes are breath-taking. House sites and designs have been created in the farm house vernacular for comfort, beauty, maximum passive solar gain, and minimal environmental impact. The property also includes a maple sugaring house for small-scale sugaring.
About The Williams Hill Project Team
The Williams Hill team is a great one. Peter Schneider and Jessie Donavan had the original idea for the planned neighborhood. They bought the land that is now William Hill five years ago. He is a Residential Energy Consultant with Efficiency Vermont, she works at the University of Vermont. They have three children, ages 11, 9, and 6.
Wagner Hodgson Landscape Architecture is responsible for the site planning. Led by landscape architects H. Keith Wagner and Jeffrey Hodgson, these guys have done everything from the new rest stops on 89 to Bicentennial Hall at Middlebury College.
The builders are Yandow Green Builders and Red House Building, both known for beauty and exquisite craftsmanship. Yandow is all about low- and zero-net energy homes. Their focus is on the nitty gritty aspects of green building such as indoor air quality, green material selection and environmental impact. Red House Building is an employee-owned building and restoration company that works closely with energy efficiency organizations including, Efficiency Vermont, Vermont Energy Rated Homes and the U.S. Green Building Council's LEED program.
MLS Listings In Charlotte, Vermont