Vermont's UVM Makes Top Ten List of Snowiest Colleges
We don't have a lot of football here in Vermont. ESPN ranked us #50 on a list of college football states. No problem, our fields are used for farming. Instead we ski. We are known for it. Vermont Living lists the biathoners, skiers, and snowboarders we are sending to the Winter Olympics in Sochi: 20.
That's a lot of athletes coming from the second least populous state in the Union. It is not all that surprising though, given that we are the second healthiest state and our biggest college recently ranked among the top ten snowiest colleges in the country in an Accuweather.com article. What is surprising though is that UVM made it to the list of snowiest colleges, but Middlebury College did not.
Burlington's University of Vermont ranked #6. Curious. It seems that the Accuweather report of snowy college is not actually all that accurate. Anyone in Addison County can tell you we get more snow. The town of Middlebury gets an average of 69.03 inches, while Burlington gets only 58.83.
It might seem like splitting hairs, but for Middlebury College, it is a matter of pride. We've had our own ski area, the Middlebury Snow Bowl, since 1934.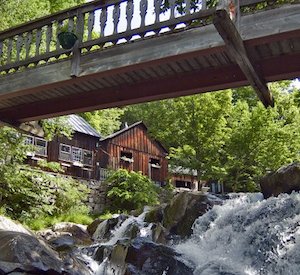 Vermont is nothing if not a state of independent thinkers, so we invite you to decide for yourself. Which is the snowiest college?
The following two locations, both equidistant to Middlebury and Burlington and frequented by collegiate athletes and their visiting parents, are the best possible vantage points to make such a decision: The Mill House in Starksboro (don't be fooled by the summer image, the skiing is wonderful right about now in Starksboro) and The Strong House Inn in Vergennes.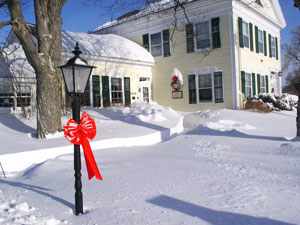 Both Inns (pictured left) are for sale, so your quest for the answer could easily become a lifelong obsession. Click on each image for full listing details and contact me to scheduling a viewing or an afternoon snowshoe.