Lilacs and Vermont Real Estate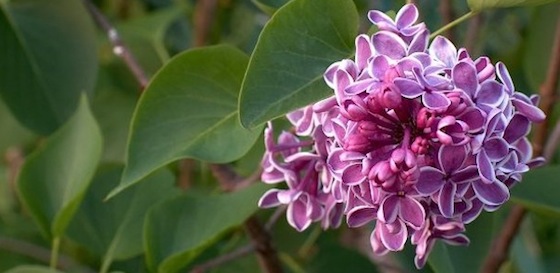 When home-buyers shop for Vermont real estate, they typically want to know about property taxes and cell phone service*. But in the next few weeks, savvy home-buyers will want to know which properties have the best lilacs (Syringa vulgaris). They'll be looking for the homes with the oldest, fullest, most fragrant lilac bushes.
Unfortunately most sellers do not list lilacs in their MLS property descriptions. This is a mistake I'd recommend amending before they bloom. Soon enough, though, we'll be able to open the car windows as we drive through Addison County and simply follow our noses. Under the right conditions, you can smell lilacs for miles.
The intoxicating lilac aroma begins inside the flower at the molecular level. Lightweight, complex compounds emit a distinct, unique odor that no other flower can reproduce. But the scent does not just entice potential home-buyers, it draws the bees and flies who pollinate the bush. They can distinguish the smell even when they are surrounded by other scented flowers. And as nature would have it, the lilac smell is most potent when the flowers are ready to be pollinated. Just make sure you take care of pest control as well as mice pest control every so often to avoid damage to your garden and keep it well maintained. The smell can draw other things that might decide to ruin your precious project.
There are hundreds of lilac varieties. For the most fragrance per blossom, try these top smellers: Angel White, Beauty of Moscow, Congo (an heirloom variety), Lavender Lady and President Grevy.
Until the MLS includes these beauties in its property descriptions, let's give these Addison County garden homes a sniff. Here are a few favorites from the list (click each image for property details):
This Panton home has a large slate patio with raised gardens, a small pond, and wide range Green
Mountain views.
Bingo! Lilacs! This Lincoln home is a private estate on 43.7 acres with streams, mountain views, and extensive gardens/edible landscaping.
This Middlebury home boasts English style perennial gardens, Green Mountain views and nearly a mile of Otter Creek frontage.
*Cell phone service is quite good and getting better all the time and here is a Special Report On Vermont Real Estate Taxes.