Inn for the Holidays: Fox Creek Inn, Chittenden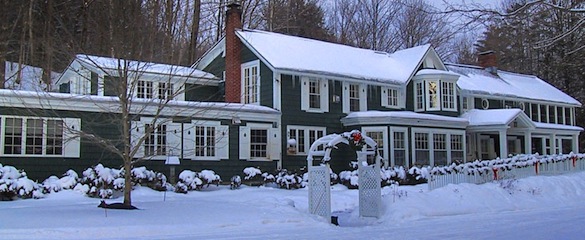 So many of us in Vermont travel during the holiday season, but the lucky ones stay in. The very lucky ones stay Inn. There is nothing quite as spectacular as spending the holidays holed up in front of a fire in a Vermont B&B. The Fox Creek Inn in Chittenden has a fireplace in almost every room – and one in each common room. They could be yours…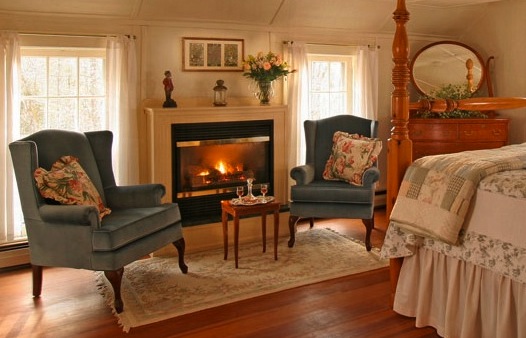 If you have ever considered owning a B&B, the holidays this year might just push you over the edge. According to the Farmers' Almanac, the forecast for late December through January calls for lots of snow. Fox Creek Inn must be seen under a blanket of white. Chittenden is less than 15 minutes away from downhill skiing at Killington. The Fox Creek Inn is less than two miles  away from world class cross country skiing and snowshoeing in Central Vermont.
The MLS description for this property is also pretty persuasive: "The Fox Creek Inn is tucked away in a quiet, tree-filled valley complete with it's own trout-stocked creek. A member of Select Registry, it is one of Vermont's most enchanting hospitality destinations, offering quintessential country ambiance, amenities, and service." Take the Christmas carol "Oh Little Town of Bethlehem" and substitute the little town of Chittenden and you'll start to get into the spirit of this wonderful place.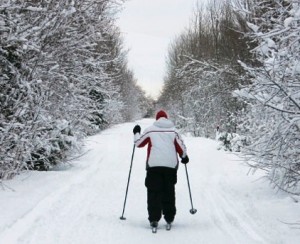 And then let's think about the Yuletide. "Yule" has its pagan roots in the Norse mid-winter festival, "jol." Some relate yule to an Indo-Europoean root word meaning "to go around." And the "tide" in Yuletide is from Old English, meaning "division of time." Some break down Yuletide to mean simply "time" or "season." Using holiday algebra – we can interpret "Yuletide greetings" as "Happy go-around Time" or maybe even "it's a great time for a happy change." 2012 could be the year you become an innkeeper.
Here are a few of the amenities at Fox Creek Inn:
8 bedrooms – all with private baths, most with fireplaces
Full furnishings
Greeting room
Den
Equipment shed
Workshop
The Pub and wine cellar
Exposed wood interiors
The dining room seats 25
Commercial kitchen
Butler's pantry
Office with reservation system
Stocked trout stream
7-bedroom Guest House
Contact me for more information about this amazing Vermont Inn. Yuletide Greetings!