Into the Winter Wood: Addison County at its Finest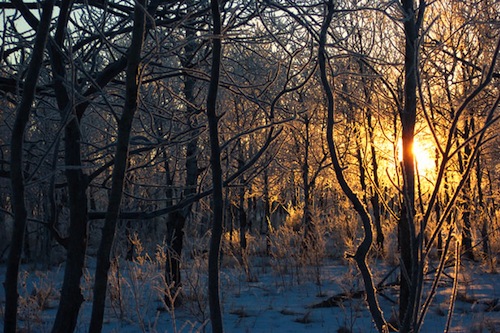 Sunrise today presented Addison County at its finest: hoar frost and clear skies. Wikipedia says "Frost is the solid deposition of water vapor from saturated air. It is formed when solid surfaces are cooled to below the dew point of the adjacent air as well as below the freezing point of water." In the bright November sun, a rarity in Vermont, I say it's breathtaking.
While many of the Vermont residential properties I represent feature open meadows (like this Chittenden property on Dam Road) and lakefront (like this historic home in Bridport), the frosty air made me think of the woods and wood stoves. These Vermont homes with sugar houses aren't all in Addison County, but they do offer terrific Vermont mixed terrain, acreage and maple stands. Some might think it blasphemous, but sugar maples are a good source for heat, a fact that becomes more and more important with the approach of winter weather.
This winter poem by Vermont poet David Budbill, "Into the Winter Woods" might get you into the mood: