People all over Vermont are asking "Where are those May flowers?"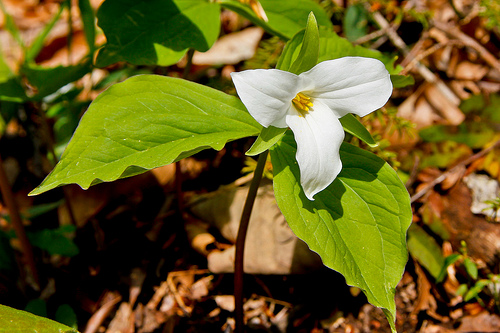 This April has seen record rainfall amounts all over Vermont. Streams have jumped their banks, culverts have given way, driveways have vanished. Just this week the governor announced that the floods have caused more than $3 Million dollars in damage, which makes our state eligible for federal disaster relief from FEMA. I'm sure the flood images in the Burlington Free Press will convince FEMA to do the right thing.
But Vermonters are nothing if not resilient. Those of us who are not wondering about the depth of our insurance coverage or where we left our hip waders last spring, remain optimistic about the promise of May flowers. This is the gift of April showers, right? I thought I'd take a look at where these gifts are starting to appear.
The banana belt of Chittenden County has already seen tulips and daffodils. But here in some parts of Addison County, especially in the mountains of Lincoln, even the trillium were a bit reluctant this year. The spring bulbs are as dependable as usual, daffodils and tulips are up by and large, but the slow appearance of the next round of blooms is creating some suspense. Where are the dianthus, salvia, yarrow and primrose?
Of all my properties, the one in the little city of Vergennes has the oldest and most spectacular perennial gardens. While there are no trillium in the city, there are some wonderful flower gardens. Here are some views of the gardens at 125 Main Street in Vergennes. The house was built in 1796; it feels like the gardens were planted shortly thereafter.
The gardens on this property attract birds and generate wonderful smells. The separate-entrance rental apartment on the property generates income: $15,900/year.