Studs or Four-Wheel Drive, Do You have what it takes to get home to your Vermont Property?
Here in Addison County we are getting slammed by a wonderful snow storm: Snow until midnight…then snow showers likely after midnight. Total snow accumulation of 8 to 12 inches. Winds gusting to 35 mph. The snow plow came here earlier, but his tracks are no longer visible. Schools are closed, meetings are canceled, neighbors are hunkering down. But some brave souls went to their Middlebury and Bristol offices today.
The roads are treacherous; the town snow plows are out in full force. Addison and Chittenden County commuters, thinking about getting home before dark, are taking stock of their snow tires.
I have always advocated studded snow tires. They always get me where I want to go. One year, when I was particularly flush, I sprang for studded Nokian Hakkapeliittas. I swear that Honda could climb trees in those wonderful tires. Many of my neighbors choose Four-Wheel Drive. My feeling is that you'll need 4-Wheel Drive only a handful of times a year and yet you'll be stuck with the fuel inefficiency of a four-wheel drive car  year round.  If the roads are that sketchy, staying home might be a safer option. That's what the internet is for…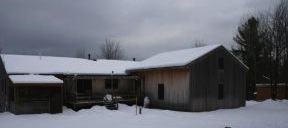 This Lincoln property in winter and mud season may require the right tires. While some the roads leading to this wonderful rural home are paved, they wind and climb. Part of the beauty about living in this part of the state is the wind and climb. The road travels through farm land, up hills, and over dales. The address is Colby Hill, Lincoln, after all.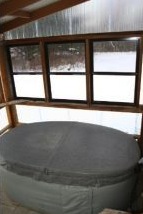 Whether you drive home on studded snow tires or in a four-wheel drive or even in a good set of new all-seasons, you'll be glad when you get here: open floor plan, 3 immaculate bedrooms, 2 1/2 baths, and you'll see plenty of wildlife from the deck off the dining room. And my favorite, there is a hot tub!
Contact me for more great, secluded properties in my neighborhood: Lincoln, Vermont