Love is in the Air and on the Hearth in Addison County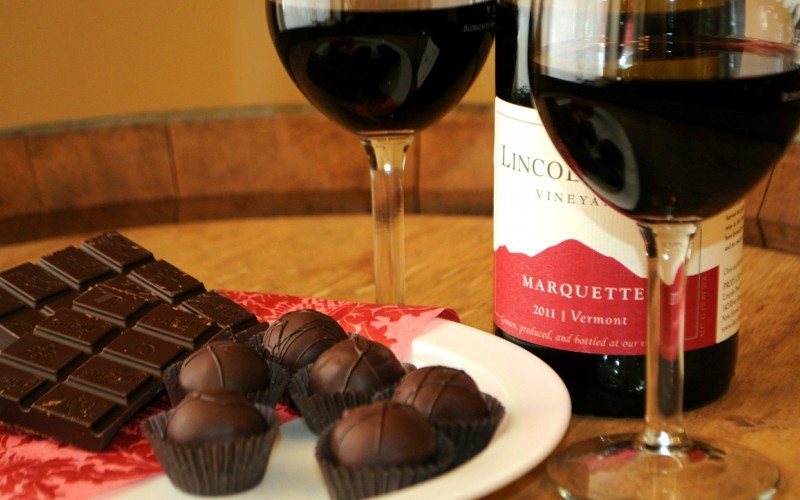 February in Vermont is all about keeping warm – inside and out. Winter carnivals and skiing not withstanding, after a day of frolicking in the snow, we love nothing more than good food, good companionship and a good fire. And as Valentine's Day approaches, that love is nuanced by libations and chocolate, of course.
Our favorite recommendation for romance in February is the Wine and Chocolate Weekend at Lincoln Peak Vineyard in Middlebury. Chris, Michaela and Sara Granstrom have put together some incredible pairings of wine and local Vermont chocolate:
Lincoln Peak Cassis (slightly sweet wine made from their own black currants) and vanilla bean chocolate bars from Middlebury Chocolates.
Ragtime Red ("cool, a little sweet, with bass notes of blackberry and plum") and hazelnut cherry chocolate hearts from The Daily Chocolate in Vergennes.
Late Harvest Red (apricot and orange notes, with honey undertones) and pink grapefruit dark chocolate truffles from the Farmhouse Truffles in Bristol.
According to our founding fathers "Wine is constant proof that God loves us and loves to see us happy." (Benjamin Franklin) And "Chemically speaking, chocolate really is the world's perfect food." (Michael Levine) The tantalizing combination is complete rapture. Chocolate is a known libido booster whose consumption releases endorphins, the same neurotransmitters of bliss that are released during sex.
And wine, well, Rumi wrote "Either give me more wine or leave me alone…" The dietary values in red wine increase blood circulation in the body – thus the flush in the cheeks and, um… elsewhere. Red, of course, is the universal color of sexual attraction.
Which brings us to the hearth, the best place to consummate an evening of wine and chocolate. The warmth and crackle of the fire are unsurpassed overtures to passion. Is it getting hot in here?
Here are two Addison County hearths you might to consider (click the image for property details and contact me for more information):
| | |
| --- | --- |
| | |
| This New Haven saltbox on Dog Team Road is on 26 acres. It features passive solar design, a building with 2 apartments and a fireplace in the boudoir. | A Tudor style home on Lake Champlain in Panton features a boat house, breath-taking views, and a beautiful stone fireplace. |