The Sound of Spring in Addison County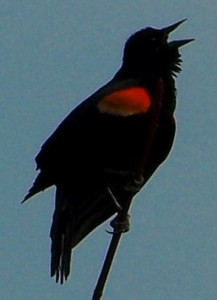 The sound of Spring in Vermont is a beautiful thing. In Addison County, we can hear the sounds of melting snow and rushing rivers, the sounds of amorous robins and red-winged black birds. The air carries the smell of damp earth and promise. But today, there seems to be something else in the breeze – the sound of rumbling. It is the collective sound of 625,741 Vermonters grumbling about the weather.
The reluctance of Spring is a perennial topic. It frustrates everyone except those busy maple sugaring. They are in the throes of their season – the maple sap run in Vermont is usually March and the first week or two of April, weather depending, of course. The best days for sap collection are those before the trees start to form buds when daytime temperatures are above freezing during the day and below freezing at night.
Here is the Eye on the Sky Forecast for April 2nd:
This Afternoon:  Mostly cloudy, some sunny breaks, and scattered snow showers south, and in northern valleys, numerous snow showers in northern mountains.  Windy and cold.  Highs in the 30s, some upper 20s in the north.  Winds west 10 to 20 mph, gusting to 30 mph.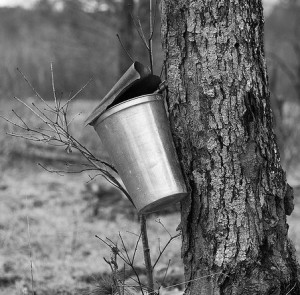 Tonight:  Clouds and a few lingering snow showers in the north and mountains, otherwise partial clearing.  Lows in the upper teens to low 20s.  West winds 10 to 20 mph, gusting to 30 mph, decreasing after midnight.
Wednesday:  A mix of clouds and sun, more clouds and scattered flurries or brief snow showers in the northern mountains.  Still blustery and cold.  Highs in the 30s.  Winds west 15 to 25 mph, gusting to 35 mph.
In other words, the sap will run in some locations, where the temperatures rise about freezing;  others will be left in the cold. We've all heard the expression "If you don't like the weather, wait a minute." This quote is usually attributed to Mark Twain. What he actually said is even better:
There is a sumptuous variety about the New England weather that compels the stranger's admiration — and regret. The weather is always doing something there; always attending strictly to business; always getting up new designs and trying them on the people to see how they will go. But it gets through more business in spring than in any other season.
In the spring I have counted one hundred and thirty-six different kinds of weather inside of four-and-twenty hours…(from a speech delivered in New York City, Dec. 22, 1876. – the full text is pretty terrific.)
While New England Spring weather gets down to business, feel free to contact me. We can tour homes with fireplaces or maybe sun rooms, weather depending…