The very best reason to live in Middlebury Vermont is not what you think it is!

Yes, Middlebury College is magnificent. It charges the entire state with a deep sense of culture, art, language and history. Yes the location is magnificent: minutes to Burlington, slightly more minutes to Montreal, hours to New York and Boston. Yes, Vermont is the most beautiful state in the union; the Champlain Valley in particular is exquisite. But the very best reason to live in Middlebury is Saturday mornings in summer: The Middlebury Farmers Market!
Vermont's best produce and baked goods are all here and they are gorgeous. About two-thirds of the vendors are local farmers selling perfect local produce – the colors will blow you away! The rest of the vendors sell art and Vermont crafts.
One artist in particular stood out: Kerry O. Furlani. She was at work carving stone under her 10×10 canopy. She is just back from studying stone carving in England and Wales. Her work has the mystical quality of dreams of Wales. Even her simple lettering on slate and marble is all Merlin and Dylan Thomas and sea cliffs. She carves terrific phrases like "Everything is Waiting for You," and "Bless the Sheep." All those phrases and ideas that are 'not carved in stone' really should be.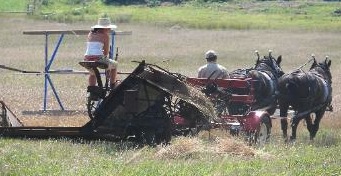 While I admired her work, there was a stir at the other end of the green. A Subaru station wagon was backing up into a crowd. It was Amos Baer of Good Companion Bakery, just outside of Vergennes. His bread is so spectacular, it sells out by 10:00 am. The line formed at the back of his car was like a cocktail party – happy people mingling.
His almond croissants are unbeatable. They are small and buttery and richly flavored without being too sweet. The Bakery and its companion farm, Boundbrook, grow their own wheat, harvest it with a team of horses, and bake it in a wood-fired oven. Their pain au levain and baguettes can not be beat.
The Middlebury Farmers Market operates May through October on Wednesdays and Saturdays with about 60 registered vendors in the historic Marble Works section of Middlebury village. It also operates as a winter market November through April inside the American Flatbread Restaurant at the Marble Works.