Vermont Farms a hot bed of new beginnings: Weed Dating in the Green Mountains
Vermont is a state of contrast. In some ways our state is very progressive; in other ways Vermonters maintain a more traditional stance. When it comes to dating, well…
Speed Dating has made it to the big city of Burlington, but to lovelorn singles in the hinterlands, the long drive just doesn't appeal. Especially in Tunbridge, where single farmers are growing relationships closer to home. Tunbridge is the inaugural home of Weed Dating.
Like Speed Dating, Weed Dating brings single people together to learn about shared interests. But unlike Speed Dating, which usually involves a Cosmopolitan or a Mojito, Weed Dating involves rows of sprouting produce and takes place on farms and in orchards. Potential sweethearts weed a row of vegetables together until the sound of the bell, then move on to the next row and potential partner.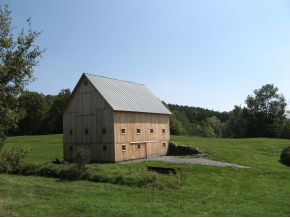 While you may not find true love,  you will find like-minded people and help out a local farm. The next Weed Dating event is October 16th at Shelburne Orchards in Shelburne. Tree fruit harvested during the event will be donated to the Vermont Food Bank. The fruits of love may just benefit you.
The Tunbridge property pictured here is an idyllic location for Weed Dating next spring. Spectacular rolling hills, private long range views, and a 36 x 48 post and beam barn on 143 acres of managed land.
Tunbridge is ready for it; are you?
Tractor image credit: Beelieve: Just for Fun