Become a Vermont foliage connoisseur: Learn the finer points of Leaf Peeping
This is the time of year for the best Vermont vacation. The fall foliage color here is unparalleled in New England. The site Vermontvacation.com provides a fun interactive map that can help you plan the timing of your Vermont Leaf Peeping trip.
Like a wine connoisseur, a fall foliage connoisseur can distinguish a tree varietal by its palette. Here's a primer on The finer points of Leaf Peeping:
Oaks create a deep red, or russet, like a fine old burgundy.
Hickories: golden bronze, like a good California Chardonnay
Dogwood: purple-red, a Bourdeaux, perhaps?
Birch and Poplar leaves produce various shades of yellow, like a wonderful Sauterne.
Like Beaujolais, Maple trees display a huge range of flavors: The Sugar Maple (Vermont' state tree) turns orange-red; Silver Maple has  mixture of green, yellow, and brown; the Red Maple makes a bright scarlet. There are many other types of maple tree, each with its own hue.
Since the lion's share of Vermont foliage is made up of maple, let's stick with the Beaujolais. There are ten principal types of Beaujolais wine; Brouilly, Chénas, Chiroubles, Côtes-de-Brouilly, Fleurie, Juliénas, Morgon, Moulin à Vent, Régnié and Saint-Amour. Let your imagination run, but please don't drink and drive as you peep at Vermont leaves.
The MLS doesn't differentiate among types of deciduous trees, but these New Haven listings show some promise of great fall color: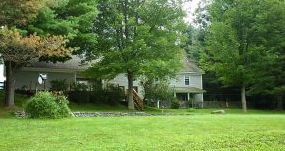 This New Haven home is on 10 +/- acres of land with New Haven River frontage.
The property is a mix of field and forest and was formerly operated as a Christmas tree farm.
The front yard shows some great deciduous trees. Imagine the wonderful foliage color on this driveway right about now…
Now this New Haven Vermont Home is a classic Vermont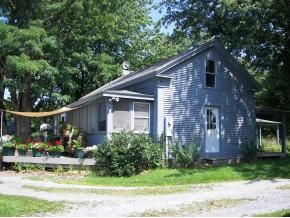 farm house with amazing west views, and in keeping with our autumnal theme, terrific trees. The MLS description
includes lots of character with apple & pear trees, sugar woods, blueberries & grapes and open meadows. And…Classic barns and separate in-law cottage. By all accounts, the house is lovely.
Contact me about these New Haven homes and we'll take a colorful drive together.